Magic-Mushrooms.net
 :???: Random Magic Mushroom Recipes
Here are some of the recipes you might try in enjoying your magic mushrooms. Why not enjoy a good meal before you have your hallucinogenic episode? LOL. Please note, we do not condone consuming illegal substances. This information is strictly for entertainment purposes only. Use your head and be responsible at all times.
Magic Mushroom tea
Ingredients:
2 grams dried and cleaned magic mushrooms
10 cups tap water
Caffeine-free tea
Sugar
Directions and procedures:
In a kettle, put 10 cups of water and bring to boil for about 3 minutes. Then put about 2 grams of dried magic mushrooms and boil for about 20 minutes in a low fire. Then, separate water from the mushroom through a strainer and set aside. While mushroom water is hot, put a caffeine-free tea, add desired amount of sugar and stir to mix well the flavors. Drink and sip magic mushroom tea to enjoy its full flavor.
You will notice that after 30 minutes, the mushroom is starting to work as you will feel relaxed and light. Sometimes you will also experience yawning as a feeling of being relaxed, followed by visualizations and altering hallucinations. This feeling can last for five hours or more dep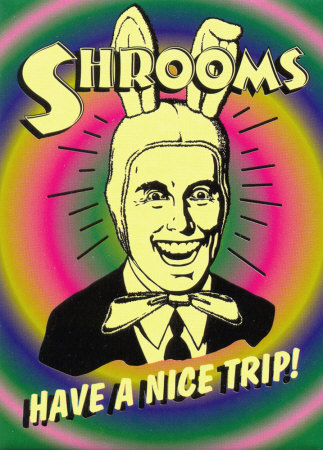 ending on the amount of mushroom tea you took.
Magic Shroomburger
Ingredients:
1 Fully prepared ham/cheeseburger (no onions)
½ full eighth magic mushrooms (any cut you prefer)
Ketchup, mayonnaise and/or mustard (optional)
Directions and procedures:
Buy a fully prepared ham or cheese burger from your favorite burger store. Then open the burger bun and put in the magic mushrooms along with other burger ingredients. Be sure that the magic mushrooms are fresh, dry, and clean before you place it inside the burger. You may put whole, grounded, sliced mushrooms, or whatever you prefer it to be. Then you add more condiments such as ketchup, mayonnaise and/or mustard or anything you prefer to give you more flavor. Enjoy eating the burger and wait a while to experience the effect of the magic mushrooms.
Magic Mushroom Spice
Ingredients:
3 grams of magic shrooms (or more depending on desired effects)
1 teaspoon pepper, not freshly crushed
1 teaspoon salt
Directions and procedures:
Get about 3 grams of fresh magic mushrooms and clean it well in running water. Use a strainer to dry it or place it on top of a dry kitchen towel or paper towel to absorb all water. Then hang mushrooms in a dry area such as a dark room, porch, or a closet. After drying (and depending how dry you want the mushrooms to be) slice the dried shrooms thinly and length wise. This slice is similar to the mushrooms you regularly notice in some pizzas. After mushrooms has been sliced or cut, place it in a small bowl, dish or cup and add pepper and salt and mixed them all together. You may use your hand to mix them to ensure that the salt and pepper is absorbed by the mushroom.Then placed this prepared magic mushroom spice into any dish you prefer, most especially your favorite dish. You may combine it even in your salad or can be part of marinate spices. This mushroom spice is best in any dish you like.
Its effects usually last for 2 1/2 hours or more depending on amount of shrooms you use or placed in your dish. If you used more magic mushrooms in a smaller dish, you will feel that its effect is stronger, longer and better.
Magic Shroom Risotto
Ingredients:
1 oz psilocybin mushrooms
4 oz maitake or shiitake mushrooms
10 oz risotto or rice
2-3 cups water or chicken stock
5 oz parmesan cheese
1 tablespoon chopped garlic
1 small red onion, finely chopped
Pinch of basil
Pinch of freshly grind black pepper
Pinch of terragon
Pinch of salt
1/4 cup dry tomato paste
Directions and procedures:
In a casserole, put the risotto with water or chicken stock. Cook the risotto in low and slow fire for 10-15 minutes or until dry. If you use non-instant rice, cook it for 15-30 minutes or until dry. While drying risotto or rice, be sure not to burn it. Set aside.
In a separate casserole, boil the thinly sliced mushrooms one at a time over low heat. Cook it for 2-3 minutes then drain the mushrooms and set aside. In another skillet, sauté garlic until golden brown. Afterwards, add the onions, basil, black pepper, terragon and tomato paste. Also add salt to taste. Cover and simmer for 5 minutes. Set aside.
Then add to risotto/rice the cheese, the sauted spices and mushrooms including a ¼ cup of boiled mushroom water (water is bluish) and stir slowly and evenly to mix well all the ingredients. While hot, serve and eat the risotto. Risotto will have a blue color and will be so tasty, masking even the taste of shrooms, especially the psilocybin. This recipe can make all most a little over than one pound to 1.5 lbs of serving and can feed 7-10 people.
With even a small amount of shrooms, its potency is very strong and effective. For stronger effect, add more magic mushrooms as desired. This recipe is also great as pesto topping.
No comments yet.
Sorry, the comment form is closed at this time.
Shroomy Videos

Recent Posts

Archives